Article Library Classifieds Books
Notice Board
Quick Jump List
European Vet and Farrier Federations join forces to promote best practise
England Farrier Team Appoint New Manager
Farriers Pages 'Commend a Farrier'
Toe Wear Survey

How has the recession affected farriers?
Millenium Year Farriers Charity Calendar Wanted
South of England Show - Lost and Found
What do you think about apprenticeships?
Farriers sought for Royal Welsh Award
Competition Seeks Top Learners from the Farriery World
Calling all farriers - your expertise is needed
New Occuptional Standards for Equine Barefoot Care
FREE Donkey Foot Care Film For Farriers
WCF 'Master' Farrier
Announcing www.summitforge.co.uk - "A farriery website with a difference"
Common Challenges Unite England's Industry Leaders
Industry Big Hitters join LANTRA's New England Council
Funding for Female Farriers
Farrier Van Stolen!
The Laminitis Trust Stimulates Laminitis Research
National Equine Forum
Obituary - Mr Sidney Smith
Revised Farriery Standards now Available
---
Press Releases & Notices 2012
European Vet and Farrier Federations join forces to promote best practice

(added 21st June 2012)
The Federation of European Equine Veterinary Associations (FEEVA) and the European Federation of Farriers Associations (EFFA) have joined forces to promote best practice in farriery.
The initiative is the result of recognition by both organisations that equine welfare is best served with the use of only properly trained farriers, working closely with veterinary surgeons as and when needed.
The main aims of the new partnership include:
Improving the welfare of the horse by encouraging the highest standards of hoof trimming and shoeing by means of a certified farrier.
Encouraging close working between farriers and veterinary surgeons on the therapeutic treatment of horses' hooves.
Encouraging the education of the horse owning public to make use of certified farriers who guarantee the art and science of farriery.
The President of FEEVA, Professor Josh Slater says: "We look forward to working together at European level and encouraging member associations to do the same at national level, with the primary intention of enhancing equine health through first class farriery."
England Farrier Team Appoint New Manager

(added 8th May 2012)
The current England Team were recently informed by Carl Bettison that after many years as a dedicated Manager to the England Team he had decided to step down. The Team would like to warmly thank Carl for his many years of service, attention & commitment to the Senior & Apprentice teams over the years and wish him well in all his endeavours in Farriery & Business.

The Team had a meeting with regards to appointing a new manager and after a coming to a decision they approached Nigel Fennell AWCF for the position. After some discussions Nigel accepted and and is now the new England Team Manager.

Nigel feels very honoured to have been asked to manage one of the finest Farriery teams there is and hopes to carry on Carls good work and commitment. Nigels forthcoming plans include raising new team Official & Product Sponsorship on a broader scale aswell as logistical organisation for the Senior & Apprentice Trials & their Team Competitions.

The Senior England Team trials date is July 21st to be held at The Army School of Farriery,Animal Defence Centre, Melton Mowbray (TBC) .
The day will consist of two rounds of shoemaking in the morning, a 50 minute class & a 45 minute class. The top eight or ten scorers (Depending on numbers) will make it to the final shoeing rounds & shoe one side of a Military horse with 3 quarter fullered shoes in 65 minutes. The Judges are Gary Darlow & Nigel Fennell. Spaces are limited to 28 entries and are on a first come first serve basis. The entry fee is £100 for the day ,lunch & drinks will be provided . You can book your place by sending your entry cheque made payable to "Mr Nigel Fennell" to Nigel Fennell Team Manager, 2 Connaught Close,Yateley, Hampshire ,GU46 6QQ.Your England Brochure pack including pictures of the specimen shoes and the days format will then be forwarded to you. Should you have any questions you can contact Nigel - email nigel.fennell@btinternet.com, mob 07887 501509 evenings 01252 874413. Nigel looks forward to the day and wishes to thank Lt Col Richard Pope & Robert Black-wood AWCF MTF RHG/D at the Army School of Farriery and Mr Gary Darlow for his acceptance to judge.

If you are an interested as an Official or Product Sponsor to the England Team then you can contact Nigel direct.

Apprentice England Team Trials will held in November 24th at Stoneleigh. Further information to this will be made available later in the year .

Farriers Pages 'Commend a Farrier'

(added 3rd May 2012)

Helping horse owners 'find a farrier'
The old adage "no hoof, no horse" still rings true; so it's little wonder that a good farrier is one of the most important people in any horse owner's life, from the happy hacker to the serious competitor. However, finding a good farrier in the first place is often down to a combination of word-of-mouth recommendations and 'trial and error' shoeings before owners find someone they trust with the welfare of their horse's precious hooves.
A new feature on www.farrierspages.com, the online farriery resource for the horse owner, will help owners not only find farriers in their area but view commendations from other customers via its user-friendly online database. The aim is to help them make an informed choice when it comes to finding a farrier, as Claire Brown of farrierspages.com explains:
"Finding the right farrier can be difficult, and the aim of the 'commend a farrier' service is to help make it easier. Alongside recommendations from other horse owners it will highlight those who have been awarded 'Master Farrier' status from the Worshipful Company of Farriers (WCF) and also those that have won a WCF Best Shod Horse award.
"We'd like to encourage horse owners - and vets - to visit the site and recommend their farrier's services; whether they've helped rectify a particular hoof-related ailment or injury, or are simply always on time, polite, helpful and consistently do a good job. It will only take a few minutes of your time, but it's a great way to show your appreciation for the work your farrier does whilst helping other horse owners find a farrier they can trust – we hope that the overall effect will be more well-shod, sound and happy horses!"
To commend your farrier or find a recommended farrier in your area, alongside a host of advice on hoof care and shoeing issues, visit www.farrierspages.com
Toe Wear Survey

(added 5th March 2012)

Simon Curtis is conducting a survey on tow wear which will only take a couple of minutes to complete - are you able to assist? Please follow the link to ask the questions - http://www.surveymonkey.com/s/88TDGF9
Simon is also looking for photo's of extreme toe wear. Please send them to Simon at curtis.farrier@talk21.com with a note as to whether he can use them or not. Lateral views are most important but if you have a solar view then that is great.
---
Hereford School of Farriery Celebrates Triple Success

(added 5th March 2012)
Herefordshire College of Technology Farriery students Alister Ibbotson and Mitchell Norton, have both been awarded the national prize of Best Portfolio by British Horseracing Education and Standards Trust (BHEST) at this year's Diploma Awards Ceremony.
Originally from Epsom in Surrey, Alister was due to complete his diploma early in 2011 but due to injury was unable to sit his final practical exam. Having returned to take his practical at the end of last year, he is thrilled to have completed the four year diploma and won Best Portfolio for 2011. He commented, "I'm very happy to have won as I have been working towards getting the Best Portfolio since I started the course. I produced an extra folder of work to accompany my portfolio which included a lot of extra study on common ailments. I had to work really hard to complete it, especially with all the other work we were doing at the same time. I'll be happy to have a bit of a break now!"
This year's winner, Mitchell Norton originally from Weston-Super-Mare in Somerset, was inspired to enter the industry by his uncle. "I have wanted to go in to farriery eversince I can remember; there is nothing else I would do instead. It was a surprise to be awarded the Best Portfolio, but I'm really please because I worked hard for it. I feel like the course has put me in good stead for my future career and that my achievements will give me a bit of an edge when I set up my business."
Earlier in 2011, HCT's Alexandra Hunter was awarded the runner-up portfolio prize, The David Llewellyn Prize for the Best Written Paper as well as the National Farriery Training Agency (NFTA) award for Best Forging Skills – a tremendous achievement. The winners were selected from over 60 trainee farriers who train at three colleges nationally. Alex is now running a successful business in South Wales near Caerphilly and is keen to commend the College's role in her achievements. "I think it is a brilliant place to train, I really do. It can be really challenging setting out in this industry but the training from the School of Farriery at HCT has been outstanding and really supportive." Alex hopes to continue to develop her business and in the future hopes to take her passion for the industry and studying a step further by taking her AWCF (Associate of the Worshipful Company of Farriers).
---
Press Releases & Notices 2011
How has the recession affected farriers?
(added 22nd December 2011)

Leah Newbery, a final year degree student from Warwickshire College, is studying the effects of the 2008 recession on the farriery industry in the UK for her dissertation. Below is a link to a survey that she would like qualified farriers to complete in order to collect the data required for the study. The survey will take no longer than 5 minutes and all information will be confidential. If you have any further information that you feel would be valuable for the study please contact her at: new09374454@stu.warwickshire.ac.uk
Questionnaire link: http://freeonlinesurveys.com/rendersurvey.asp?sid=lvsrxk1bjz58cdv991133

---
Millenium Year Farriers Charity Calendar Wanted.
(added 1st November 2011)
I'm urgently looking to track down a copy of the Charity Calendar for the year 2000. It raised over £60k for charity and my girlfriend helped organise the event, but sadly never kept a copy. I was hoping to find her a copy as a surprise Christmas present. If anyone can help track one down, that would be a fantastic.
Cheers, Mark - 07833 393255, markpatts@yahoo.co.uk
---
South of England Show - Lost and Found
(added 20th June 2011)
South of England Show, 10th - 12th June 2011 -
LOST - Derek Gardner Shoe Turning Hammer
FOUND - Sledge Hammer, Hacksaw and Leather Gautlet
If you know anything about anyone of these items please email Claire or call 07747 602978.
---
What do you think about apprenticeships?
(added 1st February 2011)
Anyone working with animals in the South West is urged to take part in research, launched today, 1 February 2011, by Lantra and VETNET Lifelong Learning Network South West (VETNET LLN SW). This cross-industry research will look at finding out how businesses, individuals and training providers regard Apprenticeships.
Lantra, the Sector Skills Council supporting people working with animals, and VETNET LLN SW, are undertaking innovative research, in the form of questionnaires and interactive focus groups, to find out industry's views and opinions on Apprenticeships. This research is open to anyone working with animals including agricultural livestock, animal welfare centres, kennels/catteries, zoos, pet shops, grooming, veterinary nursing, farriery and horses.
Lantra's manager for animal industries, Lisa Jarvis, said: "There has been little research into Apprenticeships in the animal-related industries. Although only focused in the South West, this research is the first step to find out why people choose, or don't choose to support Apprenticeships.
Running alongside this VETNET LLN SW will be investigating how Apprenticeships are used as a route into higher education (HE), identify what HE provision is accessible to apprentices and measure the demand for this provision.
Lisa continued: "If you work with animals and live in Cornwall, Devon, Somerset, Wiltshire, Dorset, Gloucestershire, Hereford or Worcestershire then we want to talk to you today. It is really important that you let us know what you think even if you don't know much about this programme."
To find out more about his research or to take the online questionnaire, visit www.lantra.co.uk/animal-apprenticeship-research, call 07867 908205 or email lisa.jarvis@lantra.co.uk.
---
Farriers sought for Royal Welsh Award
(added 31st January 2011)
Farriery has been chosen as the theme for 2011 for one of the Royal Welsh Agricultural Society's top prizes, the Dr Emrys Evans Award, which is given annually to a person who has contributed in an exceptional way to rural skills.
Royal Welsh County Advisory Committees throughout Wales are being asked to nominate candidates for the £2000 prize. Their technical knowledge and techniques will be assessed according to criteria laid down by the Worshipful Company of Farriers, the livery company founded in 1605, to promote high standards in the craft of shoeing horses.Candidates will also be judged on their attendance at farriery courses, voluntary roles they may have undertaken such as demonstrating farriery skills and work educating apprentices. Record keeping, business and development plans and working relationships with veterinary surgeons will also be taken into account.The award, a once-in-a-lifetime prize, is given in memory of Dr Emrys Evans, a Royal Welsh Gold Medallist and chairman of the Royal Welsh board of management, who died on the eve of the centenary Royal Welsh Show in 2004.
Further information from Audrey Lewis on 01982 554410.
---
Competition Seeks Top Learners from the Farriery World
(added 9th August 2010)
The best students drawn from the farriery world are set to compete in Lantra's Welsh Land-based Learner of the Year Award.
Lantra, the Sector Skills Council for the environmental and land-based industries, has called for nominations for its annual awards to recognise those developing their skills.
Kevin Thomas, Lantra's National Director for Wales, said: "These awards honour the best farriers Wales has to offer. Land-based industries are the backbone of the Welsh economy and this is your chance to recognise the people that work hard everyday to keep it together."
You can nominate a young land-based learner (16-26), a lifelong learner (27+) or someone who has used Farming Connect's Skills Development funding to develop their skills.
The winners will be announced at a high profile event at the Royal Welsh Winter Fair on 29 November.
Kevin continued: "The deadline of 30 September for nominations is fast approaching. Anyone can nominate, so do it now – they might just be our next top land-based learner."
To nominate now and for more information visit www.lantra.co.uk/land-based-learner-wales, call 01982 552646 or email wales@lantra.co.uk.
---
Calling all farriers - your expertise is needed
(added 25th June 2010)
Lantra, the skills council supporting farriers, needs your help to identify the issues facing you and your business so that solutions to your problems can be sought.
Lisa Jarvis, Lantra's manager for farriery, said, "Inserted in the June 2010 issue of Forge Magazine is a short, 12-question survey asking for your feedback. It is really important that Lantra's research is fleshed out with first-hand industry examples, so we need to hear back from as many farriers as possible.
"What problems are you and your business facing? What concerns do you have for the future? Through this survey we hope to know what support individual farriers, as well as the entire industry needs to grow and thrive. It only takes a few minutes to complete, so please help us help you."
Do you want to know more and take part? You can fill in the survey online at www.lantra.co.uk/farrier-survey. For more information on Lantra, visit Lantra.co.uk, call 0845 707 8007 or email connect@lantra.co.uk.
---
New Occuptional Standards for Equine Barefoot Care
(added 24th June 2010)
Following an extensive review of the jobs, skills and activities people carry out within equine barefoot care, Lantra Sector Skills Council announced today (24 June) that newly developed National Occupational Standards are now approved and available for employers to help support their workforce.
Lantra Sector Skills Council led the UK wide project, which gave individuals and organisations representing equine welfare, veterinary, farriery and equine barefoot care the opportunity to play their part in ensuring their ways of working were accurately reflected. National Occupational Standards (NOS for short) accurately describe what a person needs to do, know and understand in their job to carry out their role in a consistent and competent way.
Lisa Jarvis, Lantra's Industry Partnership Manager, said: "We're really pleased that so many industry representatives got involved in developing the NOS. NOS have numerous uses which help ensure that industry has the skills it needs and so it is critical to make sure they are relevant and up-to-date."
A cross-sector working group helped with the development of the standards and agreed that the title of the NOS should be 'equine barefoot care', rather than the previous term 'equine barefoot trimming'. The group felt it was important to change the title to reflect a wider role than just trimming.
Chris House, an equine veterinary surgeon from House and Jackson Veterinary Surgeons, was involved with the development of the Standards and said: "Developing NOS for equine barefoot care was a worthwhile step towards recognised standards for training and examination."
Anyone involved in the equine barefoot care industry can get a free copy of the revised National Occupational Standards, which are available to download from the Lantra website, www.lantra.co.uk.
Lisa continued: "The standards are an essential tool for any individual or organisation who are driven by the welfare of horses. NOS will help identify skills gaps and find the most relevant training for not only larger business, but smaller business too. This will certainly help the continuous professional development of both managers and the workforce and so are a great help for individual personal development too. Now the Standards are available to use, I strongly recommend all interested parties download their free copy and start using them today."
Lantra represents 17 environmental and land-based industries which will benefit by ensuring that their own National Occupational Standards are fit for purpose. The standards help businesses improve performance and productivity as they can be used to identify the skills needed for their workforce, highlight best practice, develop training and recruitment plans and also develop job descriptions.
For your free copy of the Equine Barefoot Care National Occupational Standards, please visit www.lantra.co.uk/approved-nos or call Lantra on 02476 858 424.
---
FREE Donkey Foot Care Film For Farriers
(added 23rd June 2010)
The Sidmouth based Donkey Sanctuary has recently launched a new short film that provides visual and technical support to farriers about donkey foot care.
An introduction to Donkey Foot Care is free to all farriers and industry apprentices and has been produced by the donkey-welfare charity to pass on the latest advice based on their own experiences in the care and management of donkeys. The film also identifies key differences between horses' and donkeys' feet.
There are four main chapters in the 15 minute film, including:
• the normal donkey foot
• how to correctly trim a normal donkey foot
• how to deal with seedy toe
• how to deal with trimming long feet
Colin Goldsworthy, who is one of the Sanctuary's most experienced farriers and who demonstrates all farriery within the film, says: "If you are just starting out as a farrier or even if you've been in the trade for years, please do get in touch for a free copy of this DVD. The film has been produced for you and the advice within it has been derived from The Donkey Sanctuary's vast experience, having cared for almost 14,500 donkeys over the past 40 years."
The DVD is free on request from the Sanctuary's Veterinary Department by calling 01395 578222 or emailing vets@thedonkeysanctuary.com. The Donkey Sanctuary also provides free information sheets and training to farriers.
---
WCF 'Master' Farrier
(added 5th May 2010)
The Worshipful Company of Farriers is pleased to announce that the description Master Farrier is due to be registered shortly as a Mark under the Trade Marks Act 1994. Upon registration, use of the title Master Farrier will be generally restricted to Registered Farriers who are holders of the Farriers Company's Associateship (AWCF) and Fellowship (FWCF) including holders of AFCL (Associate of the Farriers Company of London, forerunner of the AWCF). They may apply to the Worshipful Company of Farriers to display the description Master Farrier in connection with their profession. Anyone using the Mark of Master Farrier without the Company's authorisation would be doing so unlawfully.
This will enable them to demonstrate that they have achieved the higher levels of farriery.
In addition, succcessful applicants will also be allowed to display the Coat of Arms of the Company to publicise their professional connection with the Farriers Company.
For full details (including cost and sanctions) and an application form qualifying farriers should consult the Worshipful Company of Farriers website. Applications are to be signed by two supporters, one of whom must be a Fellow of the Company (by examination) and the other must be an equine veterinary surgeon associated with the Company (e.g. a Liveryman or Examiner).
Master Farriers will be invited to one of the Company's official lunches or dinners following a Court meeting at which the Master will present their certificates and Farriers Silver Medal.
A list of Master Farriers will appear on the Farriers Company website - www.wcf.org.uk - and will be updated as successful applicants are added.
The Master of the Worshipful Company of Farriers, Mr. R.G. Howe said "We are very pleased to be making this announcement. As you can imagine, there is always, for example, the temptation for craftsmen to emblazon their vans with the term 'Master' when they just do not have any justification for doing so. This announcement regularises the situation so that the horse-riding and horse-owning public will know for sure that Master Farrier really means something. It should also help to develop the public's awareness of the different levels of qualification to which a farrier can aspire."
This announcement in no way affects the term Master Farrier as currently applied to the leading farrier in charge of an Army forge.
---
Announcing www.summitforge.co.uk - "A farriery website with a difference"
(added 21st April 2010)
Paul Conroy FdSc AWCF has launched a new farriery website designed as a resource database aimed at apprentice farriers.
After many hundreds of hours work in both design and the writing of the content, the website consists of 139 MB of digital data, (over 300 separate computer files), A home page, 3 galleries, 7 menu pages, and 45 web-pages of equine and farriery related articles. This amounts to more than 120 images and over 39,000 words.
Having had an apprentice for the last 3 years and as someone who was also studying for his foundation degree, Paul saw the need for a website that held up to date and accurate information regarding farriery. The website has the following features:
Anatomy; including topics such as bones, tendons, conformation & growth of the horny wall.
Diseases; including Laminitis, Navicular, Spavin, DJD
Ailments & Injuries; including corns, sheared heels, ringbone, sidebone, pedal ostitis
There is also a section on modern farriery plus many other features.
Where ever possible, the documents are laid out as in a similar style to the way the apprentices are taught at college thereby ensuring familiarity.
My hope is that apprentice farriers and qualified farriers find it a useful research tool to aid them in their continued development. Visit www.summitforge.co.uk!
---
Common Challenges Unite England's Industry Leaders
(added 19th April 2010)
At last week's inaugural meeting of Lantra's National Council for England, prominent industry leaders on the new Council united behind the need to work together to meet the challenges facing the environmental and land-based sector.
With representatives from ten of the sector's industries including Professor Ron Jones, from the University of Liverpool and Farriers Registration Council, Landex and Unite the Union, the strong employer-led group met at Lantra's head office at Stoneleigh on 12 April to begin shaping the future work of the sector skills council to influence policy and skills development.
Top of the agenda were issues affecting all industries, including continuous professional development, recruitment, retention, career progression and ensuring the sector attracts adequate funding for training and development.
Professor Ron Jones said: "It's extremely important that the sector works together and the impression from meeting was that we were all there for a common purpose - to ensure that skills are developed in a professional manner."
Council Chair and Yorkshire farmer Richard Longthorp, added: "This first meeting provided an excellent platform for the Council to prioritise the needs of the environmental and land-based sector and identify key areas for action. The members bring a wealth of experience and knowledge from their various fields so it won't be long before the Council starts to make a real difference that helps the sector thrive."
Working together with Lantra's National Director, Madge Moore, the next step for the Council will be to ensure industry requirements are incorporated into the Lantra business plan for 2011 so the work of Lantra is entirely employer driven.
Madge Moore commented: "The new Council will certainly challenge where Lantra focuses its future work in England. Equally the group will support Lantra by getting greater industry involvement in our work so as a Sector Skills Council we make a real difference to the skills agenda for the benefit of our industries."
To find out more about Lantra in England visit www.lantra.co.uk/England.
---
Industry Big Hitters join LANTRA's New England Council
(added 14th April 2010)
In these challenging economic times employers from across the environmental and land-based sector have joined forces with Lantra Sector Skills Council to ensure that industries' voice is heard and sector needs are met.
An impressive list of leading industry figures in the environmental and land-based sector has been revealed today by Lantra Sector Skills Council with the announcement of their new England Council.
Chaired by Yorkshire farmer Richard Longthorp the obvious strength of Lantra's new Council indicates the depth of the employer–led body's ambitions in influencing England policy and skills development in 2010 and beyond.
Set to meet for the first time on 12 April 2010, the Council for England includes representatives from ten of the sector's industries as well as Landex and Unite the Union. Some of the leading industry figures come from the Agricultural Engineers Association, RSPCA and Design for London including Professor Ron Jones OBE from the Farriers Registration Council representing the farriery industry.
Born in rural Shropshire into a farming family, Ron graduated from the University of Liverpool Veterinary Faculty and has had numerous roles during his career including lecturer in veterinary anesthesia, chairman and Dean of the Veterinary Faculty, Head of the Department of Anesthesia as well as being an elected member of the Council of the Royal College of Veterinary Surgeons. In his retirement Ron has recently been appointed to the Chairmanship of the Farriers Registration Council by the Worshipful Company of Farriers of which he is a Liveryman.
The National Council for England will make a significant contribution to Lantra's work as a strong employer-led body that can steer policy decisions and seek to influence developments on behalf of the sector at both a national and regional level.
Chair, Richard Longthorp, said: "I will be encouraging a robust but constructive relationship between industry and Lantra with Council members challenging Lantra and in turn Lantra challenging industry.
"This is an exciting opportunity for industry to work together to help raise the profile of skills provision throughout England, at a time when better skills and training support are so important for the whole sector. The voice of employers together with Lantra is critical if we are to make the environmental and land-based sector a priority."
Together the Council members will work with Lantra's National Director, Madge Moore, providing strategic leadership to develop and deliver a national plan for England that ensures Lantra is not only sensitive to businesses needs but also provides a strong governance structure.
Madge Moore added: "As so many education, skills, rural and sustainable development policies are developed nationally but delivered at a regional level, Lantra must make sure it is at the heart of the national decision-making process' whilst also being able to influence regional delivery mechanisms to get maximum benefit for our sector.
"This exciting new Council brings together representatives from a range of industries all with a wealth of experience and knowledge that will influence government and regional agencies and be beneficial in raising the important role our industries play in meeting the challenges of climate change, food and fuel security and sensitive countryside management."
Today's announcement of Lantra's England Council follows the successful launch last year of the UK body's Scottish, Welsh and Northern Ireland Councils. Gordon McGlone Lantra's UK Chair summed up: "In these challenging economic times it's even more important our industries' voice is heard and we meet the needs of the sector. Bringing together such a passionate group of employers and industry representatives provides us with a great platform to really influence policy, lobby for change and work to secure funding and provision to meet industry needs. With so many education, skills and rural policy decisions now made at country-level, the National Council for England will work with Lantra to make sure we are at the heart of the whole decision-making process and can ensure the right policy outcomes are adopted which benefit the sector."
To find out more about Lantra in England visit www.lantra.co.uk/England.
---
Funding for Female Farriers
(added 14th April 2010)
Female farriers from across England can now benefit from a £450 training grant it was announced by Lantra Sector Skills Council.
The training grant is available through Lantra's Women and Work programme, which is entering its fourth year after successfully securing funding to help another 670 women working in male dominated industries. The grant will enable all women working within the farriery industry including registered and apprentice farriers to develop their skills, careers and businesses until February 2011.
Women and Work Programme Manager, Lyndsay Bird, said: "The programme has been a huge success over the last 3 years and we have seen some wonderful examples of women using the programme to achieve more. The grants can be used to fund a range of training activities to develop technical, leadership, management and supervisory skills. This year, we are now able to offer this opportunity to women in farriery and look forward to seeing how it benefits women in the industry."
Since the programme began in March 2007 Lantra has helped 2,400 women working in male dominated environmental and land-based industries to progress. Lantra recently held its first Women and Work Awards to celebrate some of the sectors most inspirational and driven women who have accessed funding to change their lives, careers and businesses.
According to The National Farrier Training Agency there are 53 registered female farriers and 33 female farriery apprentices aged between 16 and 69 who could benefit from the programme.
Lyndsay continued: "The success of the programme over the last three years means that we can now open the funding up to even more women working in industries where they are significantly under-represented."
For more information or to register your interest call 0845 707 8007, email connect@lantra.co.uk or visit www.lantra.co.uk/WomenandWork.
---
Farrier Van Stolen!
(added 23rd March 2010)
Farrier, Kirk Glibbery, (County Durham) was working in the Durham area when he had his van stolen from a private residence only yards away from where he was working.
The van was a lime green Ford Transit van (with lift up tail-gate) Reg Number RF57 AFN with a Swan 'Make and Fit' Forge, Huvena Linisher, HMS Speedy Tap, Jim Quick Fitting Tongs, Derek Gardner Tools, 2lb Hammer, Pritchels, Stamps, Stud Punch, Frank Ringle Searcher Knife, Yukon Forge Knives, Straight Blades, along with 10-15 boxes of HMS Horseshoes/Kearhearts horse shoes, Imprint Starter Kit... Along with 2 phones, diary with all bookings and customers, gym kit...in total over £5k's worth of stock, tools along with the van.
The police have been unable to locate this van even though its a very distinctive colour - there have been few made in this colour.
Please ALL farriers be extra vigilant, it seems nothing is safe these days! Also on the off chance if anyone should be offered any farriers equipments/tools that you are suspicious of please do get in touch!
Kirk Glibbery - mobile 07971627340 or email kirkglibbery@hotmail.co.uk
---
The Laminitis Trust Stimulates Laminitis Research
(added 4th March 2010)
The Laminitis Trust has recently provided funding amounting to over £230,000 for ground breaking research into equine laminitis.
In 2009 the Laminitis Trust received eleven grant applications. After peer review, two research groups were selected to receive funding, based on the scientific merit and clinical significance of their applications.
During the next two years, Dr Menzies-Gow at the Royal Veterinary College, London, UK and Professor Pollitt at the University of Queensland, Brisbane, Australia will conduct research which will increase our knowledge of laminitis and aid in prevention strategies.
Robert Eustace FRCVS, Director of the Laminitis Trust writes;
"We are very grateful to all who have made legacies and donations to the Laminitis Trust. Additionally we recognise the efforts of those feed companies, whose responsible attitude to horse nutrition, has enabled the Laminitis Trust Feed Approval Mark to become the "gold standard". Lastly, without the support of their customers who buy Laminitis Trust Approved Feeds for their animals, the Trust would not have been able to provide these substantial research grants".
If you wish to help the Laminitis Trust in its fight against this crippling disease please visit www.laminitis.org or telephone 01249-890784 for further information.
---
National Equine Forum
(added 11th February 2010)
Regarded as the equestrian networking opportunity of the year, the NEF brings together invited leaders from every corner of the equestrian industry to enjoy entertaining, educational presentations, discussions and debate. This year's programme includes:
The Defra View Arik Dondi, Defra
The conservative party's plans for the horse world James Plaice MP
Licensing for horse establishments Ben Mayes MRCVS
The role of the horse in Europe Carolina Liljenstolpe
Development of systems to endoscope galloping horses Dr Mark Hillyer MRCVS
Nutrition and gastric ulceration – cause or cure Dr Pat Harris MRCVS
Worming and wormers Prof Chris Proudman FRCVS
BHS undergraduate thesis3D anatomy of the cervical
articular process joint Holly Claridge MRCVS Eqvalan Thesis of the year
Identification: legalities, logistics and welfare issues Dr Madeleine Campbell MRCVS
Museum of the Horse Caroline Anns-Baldock
Horses in painting John Stainton, Christies
Training for World Class Paralympics David Hunter, chef d'equipe
The control of exotic diseases and equine flu Prof James Wood
Training and regulation of paraprofessionals Chris House MRCVS
A personal view HRH The Princess Royal
The National Equine Forum is chaired by Professor Sir Colin Spedding and is convened by Miles Williamson-Noble. It is usually attended by HRH The Princess Royal, its President, and is supported by the ABRS, Bedmax, BETA, BEF, BHS, BHA, The Blue Cross, Darbys Solicitors, Dodson & Horrell, The Donkey Sanctuary, Fort Dodge Animal Health, Jeffress Scholarship Trust, NFU Mutual, South Essex Insurance Brokers, The Horse Trust and World Horse Welfare.
There are a limited number of tickets available for equestrian trade delegates and equestrian professionals at a cost of £100 per person. To apply please contact the Hon Secretary, Mrs Tracy Lepkowska, at Warwickshire College, Moreton Morrell, Warwick, CV35 9BL email tlepkowska@warkscol.ac.uk. For further information on the NEF visit www.bef.co.uk
---
Obituary - Mr Sidney Smith
(added 1st February 2010)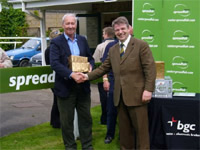 Sidney (Sid) Smith (who passed away on January 14th 2010) was the Official Farrier at many of the horse racing courses in the South of England including Goodwood, Ascot, Epsom, Lingfield and Fontwell. He was a well known and respected member of racing's backroom team supporting racing for over fifty years.
Sidney Charles Smith was born in the small village of Churchill in Oxfordshire to Frederick and Mabel Smith on the 26th March 1932. He attended his local village school until the age of 15. His father was adamant that he should not follow the family tradition of blacksmithing so he was apprenticed to be an Electrician.
After a few short weeks he knew he would not be happy unless he was involved with horses and made his own arrangements to be apprenticed to a Blacksmith. When he started his five year apprenticeship he became the eighth generation of the Smith family to become a Blacksmith and Farrier.
His apprenticeship, ultimately leading to his becoming a Registered Shoeing Smith (RSS) started with the Ajax Forge Company (Dec 1947-Dec 1949) in Churchill followed by three years (Dec 1949 – Dec 1952) with Mr George Hirtzel, Master of the Heythrop Hunt Kennels, Heythrop, Oxfordshire. It was during this time that he learnt the basic skills of how to make shoes from raw materials using the traditional forge and anvil techniques. He was entrusted with not only shoeing horses for private owners but also for very valuable horses used for hunting and racing. He also started to acquire the additional skills relating to horse anatomy and psychology which are an essential part of a professional Farrier's expertise.
Sidney was called to serve his National Service in the King's Troop Royal Horse Artillery based at St John's Wood, London. He enlisted on the 19th December 1952, was transferred to Army Reserve on the 18th December 1955 and discharged on the 18th December 1959.
During his service, which he spent entirely as a Farrier to the King's Troop, he was promoted from Gunner to Lance Bombadier. At the 1953 Coronation of Queen Elizabeth II he rode as the Troop Farrier carrying the ceremonial silver axe at the rear of the column.
On leaving the Army he and his young family moved to Arundel in West Sussex. It was here he was here he was employed as a Blacksmith/Farrier at the Duke of Norfolk's Racing Stables. This employment allowed him to become the Official Farrier for the nearby Fontwell Racecourse.
In 1960 he started his own business as a freelance Farrier building up a large private customer base which included racecourses, hunt and racing stables, riding schools, polo pony teams as well as numerous private horse owners.
His experience at Fontwell and long association with the racing fraternity led to his appointment as the Official Farrier at Epsom, Kempton, Sandown, Goodwood, Ascot, Lingfield and Windsor Racecourses. He held these responsible positions for over forty years and earned the respect and admiration of both the Officials and the Trainers. It is not widely known that no race can be started under Jockey Club Rules without a Veterinary Surgeon and an Official Course Farrier being in attendance. The Course Farrier must be available at all times during racing to shoe horses in the stable yard and also to deal with horses spreading a plate (i.e. losing a shoe) in the paddock or at the start. During his association with the Racecourses he of course plated many winning horses and his successes included many Derby winners at Epsom.
Sidney worked as one of the backroom team to the racing world but provided a vital service over many years. He received little public recognition of this service although in July 1991 he was presented to The Princess Royal at Kempton Park Racecourse and during a serious illness in 1993 he received the public best wishes for recovery from the racing world through Lord John Oaksey of Channel Four Racing.
Sidney and his family moved to Petworth, West Sussex in 1960 where he had a full working forge with Lord Egremonts Estate Yard at Petworth House to service the needs of his many private customers. Sidney had many of his customers for decades reflecting both his skill with horses and his generosity to younger owners needing to keep their ponies and horses in a healthy condition.
Over the last 50 years Sidney managed to successfully combine the demands of the sport he dedicated his life to; the very long hours away from home, Bank Holidays spent working, the very early starts and very late finishes, the triumphs and failures of the people who have relied on his skill with the demands of family life, his wife Noreen (passed away in November 2007) and their four children's love and support for him demonstrated how successful he had been in managing the competing demands made upon him.
He proved himself to be a loyal, dependable, honest and very professional servant to the Royal sport of horse racing. Just as importantly he displayed these same qualities in his private life for the benefit of his family, his friends and the wider community.
Sidney cut back on the number of racecourses he serviced after his 70th birthday, finally fully retiring two years ago at the age of 75. He enjoyed his retirement in the company of his four children, six grandchildren, four great grandchildren and his many friends and acquaintances.
In his memory donations in aid of Let the Children Live! Can be sent to c/o W Bryder & Sons, The Gables,Tillington, Petworth W Sussex GU28 9AB.
---
Revised Farriery Standards now Available
(added 27th January 2010)
A major review of the standards required for farriery took place throughout 2009, which gave farriers the opportunity to play their part in ensuring their skills of the profession are accurately reflected. These standards are now available online, so now is the time to take advantage of them.
Lantra Sector Skills Council led the UK wide project, which define the skills needed by farriers to be able to do their job properly. Many farriers and industry representatives from across the UK worked with Lantra on the extensive review
Lisa Jarvis, Partnership Manager at Lantra, said: "The revised standards form the basis of farriery qualifications. The review was a critical process for the sector as it determines what qualifications will look like for the next three years. They are also a great tool to use in the workplace as they can be used to identify the skills needed, highlight best practice."
Peter Ablett, Chief Executive of the National Farrier Training Agency, was one of those who got involved with the review and commented: "National Occupational Standards (NOS) are the bedrock of modern professional practice and most importantly they give direction and focus to training and development. I was therefore delighted to contribute to the recent review of the farriery NOS, which will ensure that our professional standards are not just being maintained but advancing the knowledge and skills of our apprentice farriers."
Lisa concluded: "The standards will be of great help to farriers. The standards support small business and can be used for individual personal development too. I strongly recommend all farriers to download their free copy and start using today."
For your free copy of the Farriery National Occupational Standards, please visit www.lantra.co.uk/nos or call Lantra for more information on 02476 858 424.
---
World Championship Roll of Honour
In 2009 the World Championships were won by England's Steven Beane, but who has won other years? Click here to view the World Championships Roll of Honour.
---
Website Links
American Farriers Journal
Australian Farriers & Blacksmiths Association
Blacksmiths Competition Website
David Hankin DipWCF
European Federation of Farriers Association
International League for the Protection of Horses
New Zealand Farriers Association Inc
Queensland Master Farriers Association
Roythornes Legal Services
The Horse Trust
World Champion Blacksmiths