Industry Suppliers Directory
Arthur Cottam & Company (Horseshoes) Ltd
Arthur Cottam & Company (Horseshoes) Ltd was established in 1926 and is still an independently 5th generation British family owned horseshoe manufacturer and distributor of farrier supplies within the UK and Worldwide. Specializing in our own brand of Concave shoes, Steel Training shoes, Traditional, Ideal and Essential. We also have our own design of drop forged shoes, The Equishoe, which now includes Economy, Original, QC, Roller Lite, Trainers, Ultimates and XL. We also have our own range of Aluminium Racing Plate, Tools and Hoofcare Products including many other brands of farriery equipment.
Other quality brands we stock include Handmade, MNC, Werkman, Pegasus, Imprint, March, Derby, Mondial, Mustad, GE, Save Edge, Heller Legend plus many others.
Our order lines are open 8am till 8pm just call 01246 453672/454249
BRAND NEW for August 2013 - buy online!!
Address: Carrwood Road, Chesterfield Trading Estate, Chesterfield, Derbyshire. S41 9QB
Telephone: 0800 591547 or 01246 453672/454249
Fax : 01246 268953
Email: sales@cottamhorseshoes.com
Website www.cottamhorseshoes.com
Find us on Facebook www.facebook.com/cottamhorseshoes
South West Branch
Longmeadow Farm
Coombe Road
Shaldon
Teignmouth
Devon
TQ14 0EX
Tel: 01626 872793
Heathfield Branch
The Old Farm
Firgrove Road
Cross in Hand
Near Heathfield
East Sussex
TN21 0QL
Tel: 01435 867596
---
Anvil Jewellery
This stunning Jewellery collection makes perfect gifts for any occasion.
Designed and handcrafted by a master farrier using classic patterns, but with a stylish contemporary twist. Available in hallmarked sterling silver or 14 caret gold.
These authentic miniaturised horseshoes & horseshoe nails are available as cufflinks, rings, lapel pins, bracelets, necklaces, and earrings.
Existing pieces can be customised to your own requirements. Any style of shoe can be combined with almost any piece. Precious stones of your choice can also be inset. Please call to discuss your requirements.
Address: Anvil Jewellery, Handmade Shoes (UK) Ltd, 3-4 Williams Court, Pitstone Green Business Park, Leighton Buzzard LU7 9GJ
Telephone: +44 (0) 1296 662473
Email: info@anviljewellery.co.uk
Website: www.anviljewellery.co.uk
---
Atlantic Equine Ltd
Atlantic Equine Ltd is the importer and UK distributor for a family of high quality farriery and hoofcare products. These include Victory aluminium racing plates, the Elite aluminium competition shoe, Mondial horseshoe nails, Equilox and Hoof Life hoof repair and adhesive, the Soundhorse range of glue-on shoes, Vallorbe Swiss rasps, Double S knives and Hoof Shield and TrueFlite pads. We are also major suppliers and distributors of the Cavallo Simple and Sport and Equine Fusion Hoof Boots and a wide range of specialist equine hoofcare products for the horse owner. Orders can be placed online, by mail order or by visiting our warehouse.
Address: Unit 5A, Low March, Daventry, Northamptonshire NN11 4SD
Tel: 01327 314880
Fax: 01327 314889
E Mail: sales@atlantic-equine.co.uk
Websites: www.atlantic-equine.co.uk and www.online-equine.co.uk
---
Eastlake & Beachell Ltd
THE FARRIER APPOINTED INSURANCE BROKERS AND FINANCIAL ADVISORS
After 23 years, we have the greatest understanding of the risks and requirements of working farriers and their families.
Based on our experience and your continuing input, schemes are specifically designed to cover your professional risks and liabilities.
Your income protection needs in the event you are unable to work.
Our full time dedicated team is always available to discuss your needs with you.
When claims are made, we understand what is required, reducing your time and paperwork.
We know your needs from apprenticeship to retirement.
Address: 29 The Crescent, King Street, Leicester LE1 6RX
Telephone: 0116 204 4604 or 0116 204 4624
Email: postmaster@eastlakebeachell.co.uk
Website: http://www.eastlakebeachell.co.uk/Farriers_And_Backsmiths.htm
Authorised and regulated by the Financial Services Authority, no. 125531.
---
Handmade Shoes (UK) Ltd
Handmade Shoes prides itself on manufacturing some of the highest quality horseshoes on the market as well as representing and sourcing products from some of the world's best toolmakers and manufacturers. Handmade Shoes has the largest range of quality farriery tools in Europe and possibly the world - and it continues to grow!

Based in the UK, incorporating an excellent technical customer service team, Handmade Shoes have an established and efficient supply and distribution network across the world. With a vast range of high quality products sourced to meet individual farrier's needs – Handmade provides everything you need to be a farrier.

Address: Units 3 & 4 Williams Court, Pitstone Green Business Park, Pitstone, Nr. Leighton Buzzard LU7 9GW
Telephone: 01296 662473
Mobile: 07966 184387 (out of hours)
Fax: 01296 660779
Freephone: 0800 328 7232
Email: info@handmadeshoesltd.co.uk
Website:www.handmadeshoesltd.co.uk
Online Web Shop: www.handmadefarriersupplies.co.uk
---
Imprint Equine Foot Care
Imprint Equine Foot Care produce a large range of mouldable plastic therapeutic horseshoes including Imprint First, the market leading shoe for the treatment of laminitis, Imprint Sport for the performance horse and the versatile Imprint Granules for hoof repairs, reconstruction and shoe modifications. We also run training courses, seminars and demonstrations for farriers and veterinarians, if you would like information on future events or details on our products do contact us.
Address: Town Forge, High Street, Malmesbury, Wiltshire, SN16 9AT
Telephone: 01666 822953
Email: info@imprintshoes.co.uk
Website: www.imprintshoes.co.uk
---
J & A Ferrie Farrier Supplies
J & A Ferrie is based in Scotland selling everything for the farrier. We stock our own brand of Tools and Horseshoes as well as other quality brands.
VISIT OUR NEW ONLINE SHOP. It is easy to use and payment is secure.
Address: The Smithy, High Street, Newmilns, Ayrshire, Scotland KA16 9EE
Telephone: 01560 323002
Fax: 01560 322382
Email: sales@j-aferrie.com
Website address: www.j-aferrie.com
---
Jim Blurton Specialist Horseshoes (Jim Blurton Farrier Tools)
Jim Blurton Specialist Horseshoes and Farrier tools are the leading suppliers of bar shoes and quality tools to the farrier industry. With over 30 years experience at the highest level, Jim Blurton delivers World Class products from a World Class Farrier.

Address: Rosehill, Kingswood, Forden, Welshpool, Powys SY21 8TR
Telephone: +44 (0) 1938 580 222
Fax: +44 (0) 1938 580 228
Mobile: +44 (0) 7903 061 368
Website: www.jimblurton.com
Email: jim.blurton@virgin.net
---
Kinder Pocock
Chartered Certified Accountants
We provide practical solutions to ease the burdens of running your small business
Address: Suite 9, Mortimer Trading Centre, Mortimer Road, Hereford, HR4 9SP
Telephone: 01432 273400
Email: info@kinderpocock.co.uk
Website: www.kinderpocock.co.uk
---
Life Data Labs
Life Data Labs is a US manufacturer of equine nutrition and topical products. Established over thirty years, the ISO 9001:2008 certified company is recognized worldwide as an icon of quality equine products, and is a certified 'GM Free' production facility. Farrier's Formula® has been a trusted name in the EU market for eighteen years.
Dr. Frank Gravlee, the founder of Life Data, has an extensive background in equine medicine. He graduated from Auburn University School of Veterinary Medicine and practiced veterinary medicine before attending graduate school at MIT Massachusetts Institute of Technology, receiving a master's degree in nutritional biochemistry and intermediary metabolism. He continues his research as well as consults for Life Data Labs on a daily basis.

Karen Zetsche is our EU sales representative and has been a valuable member of the Life Data Team for many years.

Life Data Labs, Inc.
12290 Hwy 72
Cherokee, AL 35616
+1-256-370-7555
cservice@lifedatalabs.co.uk
www.lifedatalabs.co.uk

Karen Zetsche
EU Sales Representative
Mobile: 0044 (0) 7535151022
kzetsche@lifedatalabs.de
---
Londonderry Forge Supplies
Everything for the Farrier.
Comprehensive choice of shoes from aluminium plates to heavies, Brand name tools and accessories.
Visa/Mastercard accepted
Open Monday to Friday, 8.00am to 5.30pm
Address: The Forge, Londonderry, Northallerton, North Yorkshire DL7 9NE
Telephone: 01677 422587
Mobile: 07740 723118
Fax: 01677 426587
Email: enquries@forgesupplies.co.uk
Website:www.forgesupplies.co.uk
---
MNC Limited
Suppliers of quality horseshoes and horseshoe nails, designed by Farriers for Farriers. Our exclusive products include brands such as Vulcan Horseshoes and Nails, GP Nails and Tools and Malaysian Horseshoes.
MNC Limited
Lower Rectory Farm
Orchard Mill Lane
Great Brickhill
Milton Keynes
MK17 9AF
Telephone: 0800 043 1493
E:mail: sales@horseshoes.co.uk
Website: www.horseshoes.co.uk
---
Mustad Hoofcare SA
Rue de l'Industrie 2
1630 Bulle - Switzerland
Tel. 0041 (0)26 919 15 80
Fax 0041(0)26 919 15 85
E-mail: mail@mustadhoofcare.com
Internet:
www.mustad.com
www.mustadhorseshoes.com
---
Natural Animal Feeds - PROFEET
Farriers and nutritionists alike recognise the influence diet has on hoof integrity. Providing targeted nutritional support on a daily basis can have huge bearing on the health and growth of your horse's hooves. PROFEET hoof care products are designed to nourish the hooves from within whilst the premium applications offer external protection.
With over 30 years' experience, NAF are the most well respected and well known manufactures of equine health supplements in the UK and across Europe. Using proven ingredients found in nature and creating unique, effective formulations, we pride ourselves on our unparalleled commitment to quality. We believe in using only the best natural ingredients, which are fully traceable and are combined to create unique nutritional formulas. Our products begin their development in our fully equipped laboratory, where our team of veterinary scientists, nutritionists and chemists work together to produce our highly effective and uniquely targeted formulations. The result is our extensive range of advanced, nutritional products designed to offer you something for your horse's every need.
NAF
Wonastow Road Industrial Estate West
Monmouth
NP25 5JA
Tel: 0800 373 106 (Freephone)
Fax: 01600 710701
Website: www.naf-equine.eu/uk/
E-mail: info@naf-uk.com
---
Silverback Chaps
With over 15 years of farriery experience, our aim was to create the finest chaps that money can buy. To bring the farriers apron into the twenty first century.
Since 2007, Silverback Chaps have worked tirelessly to create the worlds greatest chaps. In September 2011, we finally created the most comfortable and ergonomic pair of chaps on the market. With the innovative abdominal sling, dorsal support and bi-lateral fastening system, these unique patented design aspects allow a perfect fit every time, avoiding undue stress and injury.
Our outstanding, high quality materials make these chaps some of the lightest on the market, with ultimate protection, creating a core stabilizing system along with a great pair of chaps.
All our materials are sourced within the UK and most importantly all our chaps are made in the UK.
---

Stromsholm Ltd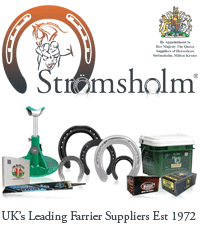 Farrier Tools, Supplies and Equipment by Stromsholm Ltd, Milton Keynes, UK. We are proud providers of horseshoes and farriery tools, supplies and equipment, by appointment to Her Majesty Queen Elizabeth II.

Stromsholm has grown from selling horseshoe studs from the kitchen table, into the UK's leading specialist both in hoof care and horseshoes.

Browse our shop online for an excellent range of farrier tools such as hoof nippers, rasps, testers, hoofjacks and more. We also provide farrier supplies and sundries such as Smithy Coke, Horseshoe Nails, Feed suppliments and more. All of our Farriery equipment is of the highest standard, as you would expect from a company responsible for supplying the royal family's Equestrian needs.

Today many of the worlds top race horses and competition horses are shod with Kerckhaert Horseshoes which Stromsholm are proud to distribute The Royal Kerckhaert Horseshoes across the UK.

Our comprehensive range of horseshoes is complimented with an extended range of tools and equipment required by today's professional farrier.

Our products also include many of the leading hoof care products available on the market today.
Address: Wood Court, Chesney Wold, Bleak Hall, Milton Keynes, Buckinghamshire, MK6 1NE
Sales: 01908 233909
Accounts: 01908 232244
Fax: 01908 233908
Website: www.stromsholm.co.uk
---
Swan Products
SWAN PRODUCTS has manufactured Portable Forges for over 20 years. Our entire range is suited to both Farriers and Blacksmiths alike. We also stock a huge range of Tools & Equipment as well as being a stockist for Stromsholm UK.
Address: Units 1 & 2 Gamma, Orchard Trading Estate, Toddington, Gloucestershire GL54 5EB.
Telephone: 01242 621590
Fax: 01242 621591
Email: info@gasforges.co.uk
Website:www.gasforges.co.uk
---

Special Offers and Product Information! Click here for more information......